Welcome
to the Lupus Foundation of Pennsylvania's NEW website! We invite you to view our stories, use our informational resources, visit our
online store
, and view our
events and programs calendar
. We encourage any feedback or comments and look foward to hearing from you!


FAMILIES, TEAMS, RUNNERS, SKATERS, WALKERS and DOGS all came together for a beautiful, fun day at Station Square.
Our thanks to our volunteers, sponsors and everyone involved!

Congratulations to Our Top 5 Fundraising Teams!!!!

Team Cusick
The Beagle Squadron
Team Polito
Team A & J
Stephanie's Super Supporters

Open Horse Show
October 4th in Negley Ohio

Saturday, October 18th in Allentown, PA
---
Check Calendar for Scheduled Programs and Events
---
URGENT - Help Us to Help You!!!!
Lupus Needs Assessment Survey Link
Your response is invaluable to us!!
Please complete this survey to help insure that Lupus PA is making the best uses of foundation resources in responding to the health needs in our Lupus community.
---
---
Lupus Today Education Seminar
HOLIDAY INN MONROEVILLE
Saturday, October 18, 2014
 
New Support Group Announcement!!!
UPMC PASSAVANT HOSPITAL
3rd Tuesday of each month
Beginning September 16th
Telephone Support Group Announcement


Monthly telephone support group calls will now take place on the 2nd Wednesday of each month. 
Next call is scheduled for Wednesday, October 8th from 7:00 - 8:00 pm.


Please call the office at 800-800-5776 for call-in information.
Twitter Feed
This is the twitter feed.
Follow Us
---
LRI DISCOVERY, WINTER 2013-2014
Turning Lupus Research-UPSIDE DOWN
A report on the major breakthroughs to speed the development of new treatments
---
Download the MY LUPUS LOG app for Android phones today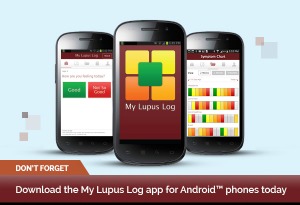 Start understanding your lupus better by tracking your symptoms, recording how they're affecting you, and sharing it all with your doctor. And let My Lupus Log help. Available FREE for Android smartphones, the My Lupus Log app lets you:

• Track your symptoms
• Monitor and record their impact
• Customize your profile
• Learn more about lupus
• Stay focused with alerts and reminders

Click Here to download your free Android app today or go to Google Play and search for "My Lupus Log."
---