Welcome
to the Lupus Foundation of Pennsylvania's NEW website! We invite you to view our stories, use our informational resources, visit our
online store
, and view our
events and programs calendar
. We encourage any feedback or comments and look foward to hearing from you!


25th Anniversary Lupus Golf Challenge
July 14, 2014
The Club at Nevillewood, Presto PA 15142
Mary Anne Vento Memorial Concert
August 3, 2014
Fox Chapel Yacht Club
19th Annual Lupus Loop
September 6, 2014
Station Square, Pittsburgh
Lopin' For Lupus 
Thank you to everyone who attended and supported the Spring Open Horse Shows at Simmons Equestrian Center in Negley Ohio
Mark your calendar for the Christmas Open Horse Show scheduled for October 4th
Empowerment of the Alpha Wolf
Banquet - Wednesday, July 16th
Conference - Thursday, July 17th
Sands Spring Country Club, Drums PA
 
---
Telephone Support Group Announcement




July's 

telephone support group call is scheduled for
Wednesday, July 9th from 7:00 - 8:00 PM.




Please call the office at 800-800-5776 for call-in information.
Twitter Feed
This is the twitter feed.
Follow Us
---
LRI DISCOVERY, WINTER 2013-2014
Turning Lupus Research-UPSIDE DOWN
A report on the major breakthroughs to speed the development of new treatments
---
Download the MY LUPUS LOG app for Android phones today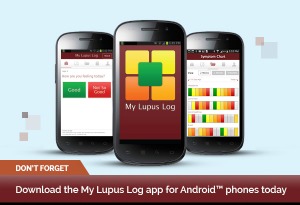 Start understanding your lupus better by tracking your symptoms, recording how they're affecting you, and sharing it all with your doctor. And let My Lupus Log help. Available FREE for Android smartphones, the My Lupus Log app lets you:

• Track your symptoms
• Monitor and record their impact
• Customize your profile
• Learn more about lupus
• Stay focused with alerts and reminders

Click Here to download your free Android app today or go to Google Play and search for "My Lupus Log."
---