Welcome
to the Lupus Foundation of Pennsylvania's NEW website! We invite you to view our stories, use our informational resources, visit our
online store
, and view our
events and programs calendar
. We encourage any feedback or comments and look foward to hearing from you!


Jess Hager Holiday Card Collection
5" x 7" cards from the beautiful original paintings
Sold in packages of 20 - available versed or blank
See all available Pittsburgh scenes
---
How do you get the most out of your energy bill?? When you are saving money AND contributing to a worthy cause!!!!

We've partnered with Stream Energy, a retailer who pays our organization a residual income for every energy customer we enroll on Stream Energy service. They offer competitive rates with possible savings up to twenty percent.

Pennsylvania energy customers in the Duquesne Light, West Penn Power, MedEd, PECO, Penelec and PPL are able to make the switch. Energy customers in the states of Georgia, Maryland, New Jersey, New York, Texas and the Washington DC area are also eligible to make the switch and benefit LupusPA. Pass the word along to friends and relatives and "Help us Fight the Battle!"

Enrolling is easy – Click on the "POWER UP" image to visit our energy webpage, sign up for service, save on your bill and help us generate charitable funds. There is no easier way to give without any additional steps or cost on your part. It's in your power to help. Can we count on you???
---
Check Calendar for Scheduled Programs and Events
---
URGENT - Help Us to Help You!!!!
Lupus Needs Assessment Survey Link
Your response is invaluable to us!!
Please complete this survey to help insure that Lupus PA is making the best uses of foundation resources in responding to the health needs in our Lupus community.
---
October 18th
Allentown PA
---
New Support Group Announcement!!!
UPMC PASSAVANT HOSPITAL
3rd Tuesday of each month
Beginning September 16th
Telephone Support Group Announcement


Monthly telephone support group calls will now take place on the 2nd Wednesday of each month. 
Next call is scheduled for Wednesday, November 12th from 7:00 - 8:00 pm.


Please call the office at 800-800-5776 for call-in information.
Twitter Feed
This is the twitter feed.
Follow Us
---
LRI DISCOVERY, WINTER 2013-2014
Turning Lupus Research-UPSIDE DOWN
A report on the major breakthroughs to speed the development of new treatments
---
Download the MY LUPUS LOG app for Android phones today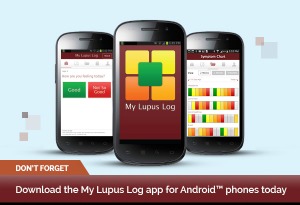 Start understanding your lupus better by tracking your symptoms, recording how they're affecting you, and sharing it all with your doctor. And let My Lupus Log help. Available FREE for Android smartphones, the My Lupus Log app lets you:

• Track your symptoms
• Monitor and record their impact
• Customize your profile
• Learn more about lupus
• Stay focused with alerts and reminders

Click Here to download your free Android app today or go to Google Play and search for "My Lupus Log."
---