Lisa Ross, Lehigh County Representative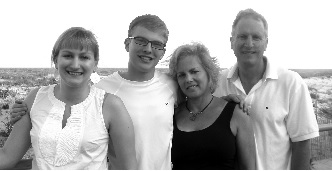 By Jan Grice

Lupus is often described as a "hidden" disease.  So many of its symptoms have no outward appearance on the body.  Joints may ache, but not swell.  Internal inflammation makes its presence known in private pain and the ubiquitous lupus fatigue is a familiar but silent companion of so many lupus patients.  But even when the disease breaks forth with a rash, a lesion, a wan complexion, the patient him- or herself often hides the disease, pushing onward with activities, trying to minimizing the effects of pain and fatigue, hiding them from others.  Lisa Ross, the leader of the Lehigh Valley Lupus Connection Support Group, has first-hand knowledge of this conviction to cope by pushing aside the reality of lupus.
As a hard-working advocate for lupus awareness and patient education and support, Lisa does not seem like someone who chooses to deny or hide lupus in her life.  She sets up informational tables at local health fairs; she negotiated with a local health center for space for a lupus support group; she started and maintains a Facebook page for the support group she facilitates; she searches out speakers and contacts.  "I think it is very important to educate ourselves," she says.  Her active involvement grew after a simple call to the Pennsylvania Lupus Foundation's office in Scranton in 2012.  "My daughter had gone off to college," she recalls, "and my son was getting older and I wanted to help others in some way."  
Working together with the Patient Services Director in the Scranton office, they put together the Lehigh Valley program – "New Approaches to Lupus 2012" which drew almost fifty people.  In 2013, LFP director Debbie Nigro asked if she would be willing to stop by a local fundraiser in Bethlehem, PA and pick up the donations.  Lisa agreed and soon was asked to represent the foundation at a few health fairs in the Lehigh Valley area.  "So many of the people I talked to asked about a support group," she explains.  She spoke with foundation Patient Support Director Marian Belotti who encouraged her to put together a support group education program to test the interest.  Lisa agreed to do it.  "This was way out of my comfort zone and I had absolutely no experience leading a support group.  I said 'Why not?' there is definitely a need and organized it." 
The self-confident group leader willing to talk about her lupus with any and everyone was not always so forthright.  In the 1990s, Lisa was in her twenties, married and working for the large corporation, Dun and Bradstreet in the Lehigh Valley in Eastern Pennsylvania.  She and her husband were expecting their first child when some blood work came back with some distressing results.  The syphilis test routinely given to all pregnant women was positive.  Thankfully, lupus awareness has increased such that medical personnel know to double-check for a false-negative result – a common occurrence in pregnant women with lupus.  Lisa says, "I had never been sick. We were quite shocked."  More tests revealed that she had a positive ANA test and a positive lupus anticoagulant, but no symptoms of the disease.  She remembers, "The doctors assured us, saying that I may never even develop any symptoms, so we were optimistic.  We decided not to tell our families, not wanting to get everyone crazy with worry."  She was carefully monitored as a high-risk pregnancy.
Lisa delivered a healthy baby girl and all seemed well.  She did have some joint pain and fatigue, but attributed it to the delivery and lack of sleep.  About three weeks post-partum, she awakened one morning with pain in her chest and as the day went on it became more difficult to breath.  At the hospital, she was evaluated for a suspected blood clot and treated with a blood thinner.  Eventually, a diagnosis of pleurisy was made, ruling out a blood clot.  "My emotions were all over the place," she says.  "Not having my newborn with me during my hospital stay was extremely difficult."  She was treated with anti-inflammatories and sent home after a week.  Though the hospitalization forced Lisa and her husband to share the news about potential lupus with their families, everyone tried to go back to living a normal life. After a four month maternity leave, she was back at work full-time.   Lisa says, "I had some issues with the sun – some rashes, joint pain and fatigue – but I've never been one to take medications.  I took them for a while, but then went off them."
About four years later, Lisa noticed an odd spot on her scalp.  "It was sort of a lesion, and there was no hair growing there," she describes.  She saw a dermatologist who biopsied the lesion.  The results were consistent with discoid lupus.  She began to notice a general thinning of her hair.  "It was a problem for me," she says.  "I was still in my twenties and appearance was important to me.  I remember thinking, 'I hope my condition doesn't get worse.'"  
In spite of the lupus diagnosis, she and her husband decided to try to have another child.  Their family showed concern and advised them against risking Lisa's health.  But Lisa was confident it would be fine.  The pregnancy was more difficult.  She developed preeclampsia and was induced three weeks early.  Afterwards, she had the same post-partum joint pain and was prescribed steroids.  "I had to stop nursing," she recalls.  "It was a very stressful time.  We had death in the family one week before my son was born and I began to see how stress played a role in managing this disease.  I decided not to return to work.  It was definitely difficult, we had to cut back, but I loved being home with my children," she says.
As family life continued, Lisa's body reacted to the daily stresses of life.  In 2003, during a period when the family was moving, the lesions on Lisa's head became more severe.  She began to experience a lot of hair loss which forced her to cover up with a hat.  She remembers people looking at her as if she had cancer.  "I never really talked about it.  I felt that I didn't have something really terrible, like cancer, and just kept it to myself," she explains.  Her treatment during this time consisted of anti-inflammatories, Plaquenil, topical steroids and even explored other holistic therapies.  After about six months, her hair began to grow again.
By 2004, Lisa began to experience painful lesions on her feet and extreme fatigue.  Frustrated with her medications, she looked for a better solution.  Her dermatologist referred her to one of his colleagues at Penn Medicine in Philadelphia, Dr. Victoria Werth, a leader in clinical research and treatment for cutaneous lupus.  Lisa was evaluated by Dr. Werth and began a new treatment with Plaquenil and Thalomid (Thalidomide).  "As soon as I took Thalomid," she remembers, 'everything turned around almost immediately!'  My lesions healed, my joint pain and fatigue improved dramatically and I was sleeping at night".  For the past twelve years, Lisa has been successfully treated with Thalomid (Thalidomide).  The drug is well known for its disastrous effects on developing fetuses when it was used for nausea during pregnancy in the 1950s.  Serious birth defects of the arms and legs were the result.  Because Lisa is still in her reproductive years, while taking the drug, she is required to take part in the rigid educational and monitoring program, S.T.E.P.S, which is the "System for Thalidomide Prescribing Safety".  The drug does have some side effects, namely, peripheral neuropathy in the hands and feet and a higher risk of blood clots, but Lisa has not experienced any of these.  She undergoes a neurological workup to monitor this every year.
Thalidomide is not approved by the FDA for the treatment of lupus, so there are some difficulties in obtaining insurance coverage for the treatment.  The drug manufacturer, Celgene, has an excellent patient support program, which has helped Lisa several times over the course of her treatment.  As research advances, hopefully more lupus patients will be able to find relief from this treatment.
Lisa's treatment has been very effective for her skin problems, but she still struggles with fatigue and joint pain, symptoms so familiar to all lupus patients.  She describes how she continues to tackle the myriad chores of domestic life.  "Even my husband," she says, "sometimes wonders if there is anything really wrong with me.  But I just want to go on with my life.  I know I will pay for over-activity, but that is a choice I make."  The very personal experience of a body that doesn't quite work right is something difficult to share, even with those closest to us.  Lisa has spent years keeping her disease to herself and still today says that is her preferred approach.  She doesn't find this inconsistent with her work for the lupus foundation.  She explains, "I'm not out there shouting it from the rooftops, but I want to be there for others.  The Lehigh Valley Lupus Connection is a support group education program for lupus patients and their families.  I want to help people learn more about their disease and how to help themselves in between doctor visits.  I've seen relationships form among the people who come to the support group and that is a wonderful thing."  For the future, Lisa hopes more local people with lupus will come forward and get involved.  "I'm always making new connections," she says.  Lupus patients in eastern Pennsylvania have a real advocate in Lisa Ross, whose work uncovers just a little bit of the hidden pain of lupus.  
The Lehigh Valley Lupus Connection support group meets typically on the 4th Saturday of the month at 11:00 AM at the Good Shepherd Health & Technology Center in Allentown.  If you would like to register or are interested in sharing your time or talents with the group, please contact Lisa at jlross4@ptd.net or The Lupus Foundation of PA at 800 800-5776 or lupuspa.org.