Life with Lupus: Linda Minniti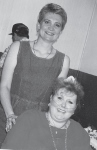 "You Should See Me Now!"
by Jan Grice
Adaptability has always been an essential part of Linda Minniti's life.  With her husband working in the nuclear and coal power industry, she has moved her household over and over again, from cities and towns in Pennsylvania and Kentucky, and most recently, to Mars, PA.  The trials of disrupting family life and starting all over again, however, have proven easy compared to the challenges that Linda faced when illness turned her life into a daily struggle.  In the mid 1990s, she was a full time public relations professional for the York YMCA, raising two teenage sons with her husband Mark.  Just a couple years later, she lay in a bed at Hershey Medical center, receiving the Last Rites of the Catholic Church, diagnosed with primary Sjogren's syndrome with manifestations of lupus.  Yet, this strong and resilient woman pulled through the crisis, adapted to the realities of life with a chronic, incurable illness, and now takes as her mantra, "You should see me now!"
Educational literature about lupus always stresses that lupus is a disease that manifests in many different ways in different patients.  The onset can be subtle or acute; some may have debilitating joint problems; some may have extreme sun sensitivity; some may have serious organ involvement.  For Linda, lung involvement came suddenly, causing her to reduce her employment to part-time, then to volunteer status, and finally to resignation, all within a year.  She recalls, "I just started feeling terrible.  I had always been healthy.  I was lucky, though, to be diagnosed so quickly.  It only took two doctors within one year to find out what was wrong."  Linda's symptoms progressed quickly.  She was treated with most of the arsenal of drugs for lupus, including non-steroidal anti-inflammatories, steroids, and stronger chemotherapy-type drugs that were administered intravenously on a regular basis.  Linda had a "port" surgically set up in a vein to avoid repeated needle pricks.  She required home oxygen and was confined to a wheelchair.  Her kidneys and heart were affected.  "I was completely non-functional.  I'd go from the bed to the couch and back again," she says.
Linda has a very supportive family in her sons and husband.   Both sons were in high school when Linda became ill.  Her husband Mark was ready to quit his job to be near Linda while she received treatment in Hershey, PA.  Fortunately, he was able to arrange a transfer to nearby York.  Linda says her older son Brian had to "learn to grow up fast."  He and Mark learned how to flush Linda's IVs and port, helping the visiting nurses with her care.  Linda recalls, "I couldn't do anything – cooking, laundry – nothing!  My family took over."  Linda's mother was able to stay for weeks at a time, helping the family.  Even Linda's younger son Chris joined in her care.  Linda's level of mobility was impacted not only by the illness (lung, kidney, and joint involvement and fatigue) but also by the medications used to control the disease.  Because Linda was treated so aggressively, she had many side effects.  Steroids, for example can cause osteoporosis, a dangerous thinning of the bone in which the loss of calcium leaves the bones brittle and easily broken.  Linda has experienced multiple fractures, and quips, "I've had so many broken bones, my whole left side is rods, from my shoulder to my toes!" 
In 1998, Linda's health had greatly deteriorated.  She was in and out of the hospital.  Her doctors struggled to arrest the progression of her illness.  She recalls being visited by a priest at the hospital.  "I remember this young intern priest coming into my room and holding my hand.  He offered me Last Rites.  I was a Baptist – my husband is Catholic – but I agreed.  I felt a warm sensation going through me.  I never experienced anything like that.  Within 48 hours, I started to get better."   Linda's recovery was a long process but this experience marked a change in her outlook.  She says, "I took it as my signal to get better.  I thought that nothing could get me, after that."
As Linda began to regain her strength, she applied her positive outlook to her life.  She explains, "I made goals for myself.  I wanted to see my youngest son graduate from high school."  Linda achieved this goal, albeit in a wheelchair.  She cherishes a photo of herself from that day, carrying it with her to remind herself how far she has come.  "I looked terrible!  Moon face, wheelchair-bound.  But I was there," she remembers.  Slowly and determinedly, she tackled each obstacle as it came.  Eventually, she was able to do more.  She became very involved in the Harrisburg branch of Pennsylvania Lupus, serving on the branch council and working on the Lupus Loop.  For four years in a row, she was the top fundraiser at the event.  She says, "I have always enjoyed volunteering and fundraising."  With the family's recent move to Mars, Linda looks forward to working with the Pittsburgh branch.
For many patients with lupus and autoimmune diseases, the emotional adjustment to having a chronic illness can take many years.  So often, depression sets in and intensifies many of the symptoms.  Linda says, "There were a couple years where it seems all I did was sleep.  It was a very sad time.  I was so sick.  I would just try to get through every day."  She is grateful for the help her family provided, but acknowledges that it was difficult for them, and especially for her sons.  Yet, she takes a very practical approach, saying, "I feel bad about it, but on the other hand, there was nothing that I could do about it."  The ability to meet the present moment in its reality and not to regret the past is part of Linda's great adaptability.  So confident that she can overcome any difficulty, she always looks forward.
Today, Linda's reality includes third stage kidney failure and breast cancer.  She recently completed radiation therapy after surgery.  For Linda, breast cancer was not the crisis that it is for so many women.  She says, "That was easy!"  She exercises regularly, walking her two mini schnauzers five times a day.  Being outside is medicine in itself for her.  She takes 16 medications daily to maintain her health, but says, "When people complain about having to take so many medications, I don't get it.  I'm glad to take them if they make me feel better.  I try not to complain."  She takes great pleasure from her family, proudly listing the accomplishments of her sons.  Not only did she reach her goal of seeing Chris graduate from high school, she saw both sons earn their degrees and celebrated Brian's marriage last October.  She and Mark take an ocean cruise every year. 
In spite of a life that has presented many challenges, Linda and her family have drawn strength from each other.  Linda recalls a recent dream about her parents, both of whom have now passed away.  "I feel a connection to them, as if they are still watching out for me," she says.  Support is so crucial for people with chronic illnesses.  Linda has found many sources of support, from her own adaptability, from her faith, and from her family.  Recently, Linda was at a medical appointment and ran into one of the doctors who treated her years ago when she was not expected to live.  "He could not believe it was me," she says.  "He couldn't believe how good I look, and he said to me – 'I thought you would be dead!'"  For Linda, this sums up her life.  She is indeed alive, grateful, and full of hope. Linda can say with confidence to the world, "You should see me now!"