Feeling Your Best by Jan Grice
Posted on 06/19/2013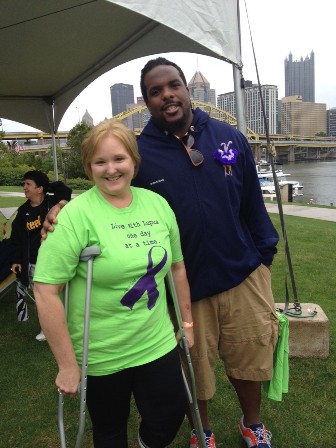 Saturday, September 9, 2012 dawned gray and wet, but Tammy Gray and her team of 40 friends and family members headed down the highway toward Pittsburgh with enthusiasm. A month earlier, Tammy had received a copy of Pennsylvania Lupus' Lupus News and saw the notice for the annual Lupus Loop Run/Walk. Diagnosed with lupus in 2006, she was receiving treatment at UPMC's Lupus Center for Excellence but never had any contact with the Lupus Foundation. "I don't know why I got the newsletter, but as soon as I read about the event, I knew I wanted to do it." She told her sister, who posted it on Facebook, and within a week, the team was growing. Her daughter Barbara designed and created a signature T-shirt. Tammy recalls, "I'd look at the team list and see people I didn't even know! Even friends of my friends were thrilled to be involved." Despite the gloomy weather, Tammy came home that day with sunshine in her heart. "It was so good to speak with other people who have lupus," she says. "I had a ball! We were the last people to leave."
For so many people with serious illnesses like lupus, life revolves around managing the disease – doctor appointments, extra rest, exercise, and periods of hospitalization. The responsibilities of work and family are often all one can manage. Not having a forum in which to share feelings and experiences can create a feeling of isolation that often leads to depression. To address this issue, the UPMC Center for Integrative Medicine is sponsoring a SLE research study, called "Feel My Best." Tammy is a participant in this study. Her positive attitude is an excellent example of how supportive counseling can improve the quality of life for chronically ill patients.
When Tammy agreed to participate in the study, she was assigned to a group that would receive individual supportive counseling. "I just don't sit down and talk about myself easily," she explains. "I tend not to share all the details about how I am feeling with my family. I think it will just make them worry more." Nevertheless, she found her weekly chats with Dr. Carol Greco very comforting. "She validates my feelings and gives me a great deal of confidence." Tammy has recently lost her father, who was a great source of support in her life. She was able to find an outlet for this grief during her counseling sessions. Keeping a journal is also part of the program. Tammy has finished the weekly session portion of the study, but continues to write in her journal. She says, "The program helped me to learn what triggers my anxiety, and that lessens the difficulty of living with lupus."
Tammy's life with lupus began officially in 2006, but like so many others, she has struggled with health issues for much longer. As a young woman in the 1980s, Tammy had an episode of idiopathic thrombocytopenia purpura (ITP) and was treated with high doses of prednisone for a six-month period and ultimately, a splenectomy. When she recovered, her doctor told her that she was very likely to develop an autoimmune disease. An elementary school teacher, Tammy continued to live an active life. She is currently a second grader teacher in the Hempfield School District. When talking about her work, her enthusiasm overflows: "In my twenty years of teaching, I can honestly say that there was not one day I didn't want to go to work. I don't go to work; I go to school!"
About seven years ago, Tammy began to have trouble with her ears. At first, she thought it was an ear infection, because there was some drainage and her hearing was muted. Despite multiple visits to doctors and treatment with antibiotics, it didn't improve. She was referred to a dermatologist because the skin was flakey. The dermatologist diagnosed psoriasis and suspected discoid lupus. Tammy recalls, "The only experience I had with the word lupus was that one of my second graders' mother had died from it." The doctor was very reassuring, and explained the nature of the skin disease. Because Tammy also had a mild butterfly rash on her face, the doctor ordered a comprehensive series of blood tests. Unfortunately, the results pointed toward systemic lupus.
Now being seen by a rheumatologist, Tammy began treatment. She recalls, "After seeing this doctor for several months, I was feeling very hopeless. I wasn't doing very well." The doctor-patient relationship is a primary factor in how well a patient with chronic illness fares. If there is not a good rapport, poor communication can result. Tammy was wise to ask for a new referral from her dermatologist, who sent her to UPMC's Lupus Center for Excellence. There, Tammy underwent more thorough testing. She jokes, "If there was test, I had it!" Her sister has multiple sclerosis, so she was tested for this, too, but was not afflicted. At about this time, Tammy scanned the Internet for information about lupus. "I was still convinced I was going to die," she says. "My new doctor told me to stay off the Internet, except for the sites he recommended. His advice was, 'DON'T GOOGLE!" Tammy took him at his word, and began to develop a good relationship. Today she has a new doctor at the center, Dr. Kimberly Liang, whom she says makes her feel as though she is her only patient. Over the years, Tammy has faced many challenges: blood clots in her lungs, a fall that shattered her hip, a hip replacement, gall bladder surgery, pneumonia, and an appendectomy. She has missed some work, but has good support from her team of co-teachers. Finding the right mix of medications has been difficult. Fatigue is a constant problem. Yet, Tammy accepts that the medications can only do so much. "I think that the meds are going to make me feel as best as they can, but the rest is on me. I have to know my limitations, get plenty of rest, and take care of myself," she acknowledges.
Through her counseling with the Feel My Best study, Tammy has drawn strength from talking about her father. He died in January of 2011, after a long illness. Tammy helped to care for him. When she was diagnosed with lupus, his advice to her was, "Tammy, you can go with it, or you can fight it." She says, "He was all about family. He cried when I was diagnosed. When he was sick, he wanted to make sure that I was going to be okay." Tammy's love for her father is the bulwark of her strength. She draws inspiration from his example. "I've learned that you have to change what you can and accept what you cannot change." Tammy tries to pass this wisdom along to her students. "I try to teach them to have a good attitude. Life is not fair. You have to make the best of your situation."
Tammy applies this philosophy in big and small ways. Troubled by anxiety about her illness, she took steps at work to help minimize the chance of infection. Because the custodians wipe the students' desks only once a week, Tammy asked permission to allow her students to use their desks as white-boards. The children wipe away the dry-markers multiple times a day and Tammy cleans each one with a bleach spray at the end of the day. She explains, "I'm helping myself, and also teaching good hygiene to my kids." Her practical attitude helps her accept that she must constantly monitor for any small changes in her body. A second bout of blood clots in her lungs made her realize the importance of being aware of leg pain. She initially felt responsible for not catching the signs, but later realized that "I didn't do anything wrong. Lupus is just unpredictable. I cannot take anything for granted. I can only do the best I can." She has learned not to hold on to negative feelings and to always look forward. She recalls a conversation with her father, near the end of this illness in which he said, "This is not a good bye; it's a see-you-later." For Tammy, and for others whose todays may be troubled by pain, this forward vision toward tomorrow can be a great step to "Feel My Best."